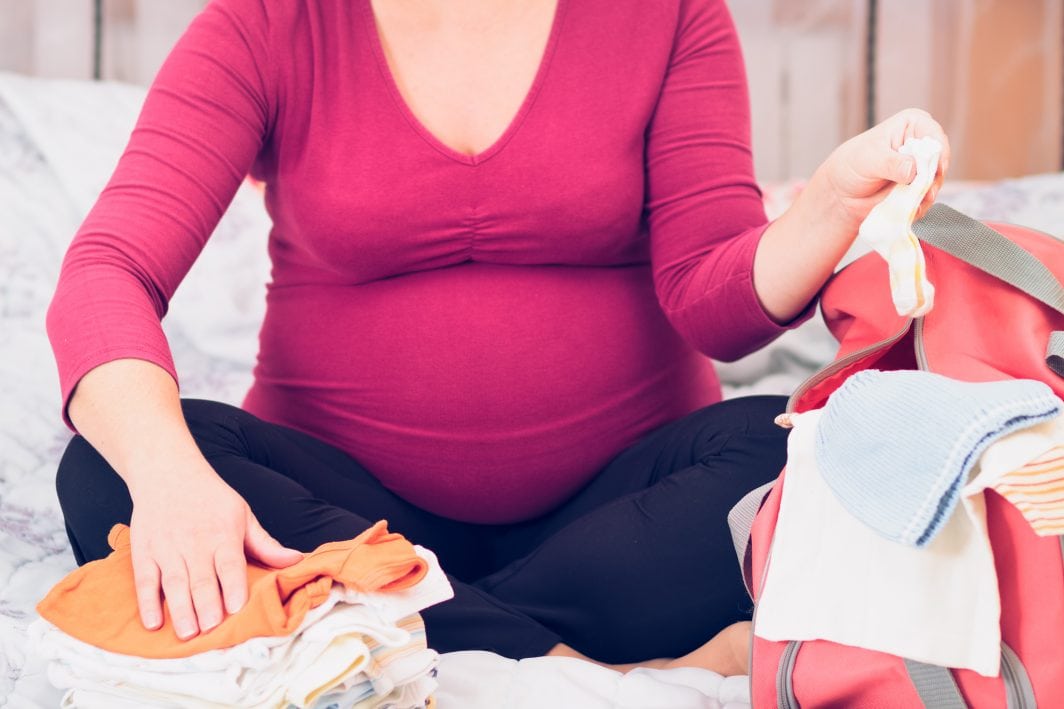 Are you an expecting mama whose due date is quickly approaching? You may be one of the many expecting moms out there: August and September are the most popular birth months in the United States! Your little one will be here before you know it, and it may feel like you have a lot left on your to-do list. We're here to remind you about an important thing you shouldn't forget in your third trimester: getting your hospital bag ready. If you're not sure where to start or what essentials you need to include, our hospital bag checklist can help.
What to pack for yourself
This mini checklist is for Mom. If you'd rather split these items into two bags, we suggest using one hospital bag for labor and another hospital bag for recovery/postpartum.
Labor bag items
Photo ID, insurance information, hospital paperwork, and birth plan, if you have one. Copies of your birth plan come in handy in case the medical team needs to refer to it.
A robe and socks, for walking around during or after labor
Toiletries

Toothbrush and toothpaste
Deodorant
Lip balm
Hairbrush and hair ties
Regular or dry shampoo
Cleansing wipes
Body lotion

Eyeglasses if you wear them. If you wear contacts, bring a case and contact solution so you can remove them if necessary.
Your phone and phone charger
Snacks, drinks, or change for vending machines
Entertainment to help you relax. Books, a tablet, or an MP3 player can help you pass the time.
Extra comfort items like a favorite pillow, slippers, or a sleep mask
Recovery bag items
After the delivery, you'll need the following items:
A going home outfit. You'll need loose, comfy clothes in 6-month maternity sizes since your uterus needs time to heal and get back to its pre-pregnancy size.
Maternity bra and nursing pads. Even if you don't plan to nurse, they can help with support and leak protection
A few pairs of comfortable, breathable underwear
You may not need these items, but they can be nice to have:
Nursing pillow
Breast pump
Nipple shields and nipple cream
Bath towel
What to pack for your partner
Since your birth partner will spend a lot of time with you in the maternity ward, don't forget to pack some essentials for them, too.
Phone and charger
An extra change of clothes
Toiletries

Toothbrush and toothpaste
Deodorant
Lip balm
Hairbrush and accessories
Regular or dry shampoo
Contact lens case and solution

Pillow in case they need to spend the night
Snacks, drinks, or change for the vending machines
Entertainment like books, magazines, computer, tablet, or music player
Camera, memory card, charger, and batteries. If you're using a camera rather than a phone to take photos, make sure you bring it and all the accessories you need.
List of people to text or call once Mom is in labor!
What to pack for baby
Hospitals will provide you with onesies and a baby blanket or two for swaddling your newborn. Plus, they'll give you diapers, wipes, and other care items you'll need, so leave a little room in your bags to take everything home.
Approved infant car seat. You'll need one before leaving the hospital, so make sure the base is installed in your car safely.
A coming-home outfit. Remember to make it seasonally appropriate, and bring a few different sizes just in case.
Warm blankets for the ride home
Your pediatrician's contact info
Final thoughts
Keep your length of stay in mind when you're packing your hospital bag. You might also ask your hospital what they provide for mothers so you can remove those items from your list. Some common items they provide for moms include maternity pads, disposable underwear, hospital gowns, and non-skid socks. 
Once your bag is packed, you're all set! Keep your hospital bag in your car or near the front door, and you'll be more than ready for your new baby's arrival.