---
What is Sleep by Rachelle — and How Is It Different?
Sleep by Rachelle is a customizable program that gently guides your little one to longer stretches of sleep at night. By working with their developing systems, we can build a strong daytime schedule that will support healthy sleep during the night. 
To build this stronger schedule, Rachelle works with you and your body to understand your baby's: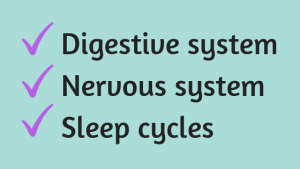 Rachelle created this method after years of connecting the dots between a baby's nutrition and sleep. She also wasn't comfortable with the harsher sleep training methods and felt there had to be a better way — something she firmly believed as a mom herself. 
Thankfully, Rachelle listened to her instincts and, since developing her sleep method, has worked with countless families. Each family has their own history, personalities, and needs, but Rachelle has been able to help them find peaceful sleep. 
What You Get With Sleep by Rachelle
Sleep by Rachelle's method is gentle for both Baby and parents. It's not easy listening to your baby cry. Your first instinct is to comfort and soothe them. With this method, you'll be able to do that while also achieving a full nights sleep.  
With the Sleep by Rachelle plan, you get a fully customized plan that ensures you will be on the right track from Step One. Whether you have a single baby, triplets, a newborn, or a toddler, Rachelle has a plan for you!
In addition to a good night's sleep (finally), Sleep by Rachelle clients will also receive:
A personalized consultation to answer all of your questions
A detailed and customized written plan to follow at home
Email support for questions that come up during implementation of the program

An all-access pass to our online community of parents, led by Rachelle